555 Tobacco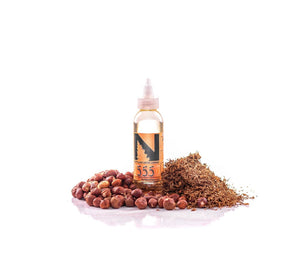 A classic mild tobacco flavor with undertones of toasted nuts.
Comes in 120ml and 30ml.  Available nic strengths are; 0mg, 1.5mg, 3mg, 6mg, 9mg, 12mg, 18mg, and 24mg. 
70vg, No artificial sweeteners and diketone free. 
People have said this about it:
"One of my favorite tobacco flavors..very smooth and has a nice flavor"
"I smoked 2 packs a day for 25 years and haven't had a cigarette since I started using the 555."
"UNBELIEVABLE - Best tobacco juice I have ever used."
"I used this flavor to successfully migrate from cigarettes. It still isn't like smoking cigs but the next best thing. All the candy and baked goods flavors never hit the right chord with me. But this is close enough. Been almost a year now with just this flavor and 0 cigarettes"
"This is my go to ADV! I absolutely love the tobacco flavor and the slightest hint of a nutty undertone. Would definitely would recommend to a friend!"
"This is my all day vape. Subtle tobacco with just a hint of caramel."
"Best tobacco flavor with a mild nutty flavor added. Not too sweet, perfect! My all time favorite!"
"A nice light nutty flavor with a pleasant aftertaste. I'm new to vaping and this is by far my favorite juice so far. Needed something easy on my coils that is not too sugary. Very satisfied with this purchase.  "
"This is the best tobacco flavor I ever had. Its not very harsh like the others and satisfy your cravings for tobacco. Will definitely order again."
"I've tried a few tobacco flavors in the past, and all of them I didn't finish because I'm not really a huge fan of tobacco flavors. I ordered this one just to try it, and I've gotta say it's surprisingly good. Taste like a sweet tobacco, but not too overpowering."
"Love how it has a sweet honey like taste to it. The tobacco tastes fresh and good!"
"Really good all day vape that doesn't cake up my coils. Mellow sweet taste!"
"Love this Juice - delicious tabacco flavor"
"Loving it.  It tastes like unburnt pipe tobacco smells with a slight hint of nuts. A distinctly earthy flavor."
"Now this without a doubt is my favourite flavour. When I first started vaping, this was literally the first and only thing I was comfortable with. Has a nice tobacco taste with an undertone of toasted nuts. The exhale is delicious to smell too and its something I want to buy a litre of if I could."
Leave a comment