Loopies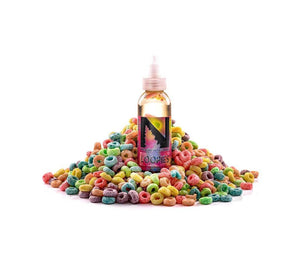 Everyone's favorite fruity, O-shaped breakfast cereal with a real milky tang!
Comes in 120ml and 30ml.  Available nic strengths are; 0mg, 1.5mg, 3mg, 6mg, 9mg, 12mg, 18mg, and 24mg. 
82vg, No artificial sweeteners and diketone free. 
People have said this about it:
"I love this e juice taste just like fruit loops and the lemon really stands out!"
"I have tried many fruit loops ejuice sand this is the best flavor I have found yet. Amazing flavor and great vapor production. Love that higher vg as well. Great all day vape juice. Will be buying more of this. "
"I love anything fruit loop. I've tried many varieties and this is my favorite brand now. I like this better than cuttwood bird brains hands down! Amazing flavor and amazing price! This will be my new go to juice!"
"Best Froot Loops juice I've ever tried, doesnt gunk up your coils like the others do! 10/10"
"I always try a 30mil bottle of juice, before i decide to purchase a 120 mil. Needless to say i went through this sample in 24 hrs, this is the best fruit loops juice i have tried hands down. I dig the milky finish, just like the bottom of the bowl. "
"Definitely one of my favorite cereal vapes. Tastes exactly like fruit loops without being overly sweetened!"
"I don't know how anybody could write a negative review on this unless they just have crap coils... This is SPOT ON fruit loops without the dreaded overly sugary taste... I'm a trained chef and while I'm usually testing much more in depth flavors this will be an all day vape for me... absolutely PERFECT"
"I love this juice! It is creamy with a bit of fruit but overly very mellow and delicious."
"Easily one of the best cereal flavors that I've gotten. I enjoyed it a lot more than the fruity pebbles flavor I got from a different company."
Leave a comment