Nuts & Cream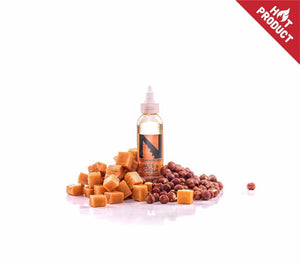 Smooth caramel and toasted hazelnuts combined with a sweet cream.
Comes in 120ml and 30ml.  Available nic strengths are; 0mg, 1.5mg, 3mg, 6mg, 9mg, 12mg, 18mg, and 24mg. 
81vg, No artificial sweeteners and diketone free. 
People have said this about it:
"Nuts and cream is one of northlands BEST juices hands down. Rich and full flavor, straight cream, almost like amaretto coffee creamer on the inhale, and wonderful airy nuts on the exhale. One of my favorites and have ordered it multiple times!"
"I've bought this juice here more than any other juice... it's so perfect. In every way. Even if I take a break from it, I always come back. It never gets old. 100% recommended to literally anyone. This is Northlands greatest juice!"
"OMG! This is sooo gooood and the smell wow! No other comments needed you like the roasted nuts taste and smell with mix caramel and cream then this is your go-to!!"
"just got this today and it's by far the best flavor if you're looking to get away from fruity.... definitely a potent flavor right out of the mailbox. i like that it's not overly sweet on inhale but creamy and sweet on exhale. smooth, like milk after a bowl of honey nut cheerios without the "cereal" flavor!"
Leave a comment