Pink Lemonade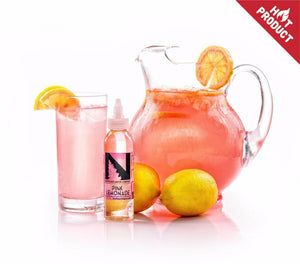 Thirst quenching, cool, and refreshing pink lemonade with a hint of melon!
Comes in 120ml and 30ml.  Available nic strengths are; 0mg, 1.5mg, 3mg, 6mg, 9mg, 12mg, 18mg, and 24mg. 
86vg, No artificial sweeteners and diketone free. 
People have said this about it:
"Very good refreshing vape. Very sweet with that tart lemon taste. Great vapor production. If you enjoy pink lemonade this is spot on."
"Fruity, smells amazing, not too tart. Nice, light lemonade for those hot summer days."
"Not overpowering on the lemon. A great ADV!"
"This is my new all day vape. It does have a strong flavor which some people may not care for, but that's why I love it. Some flavors get kind of dull when you vape it all day and this one doesn't do that for me. "
"Best pink lemonade juice I've tried so far. Doesn't have an overly sweet flavor."
"I purchased the sample pack due to the awesome deal. I am a DIYer so I don't buy much juice. I may have to make an exception for this Pink lemonade. Its the perfect amount of lemon and berries. I didn't taste much melon. The lemon is sharp but not sharp enough to drown out the berries. This blend is perfect. This shit is so so good. I know a lot of people rave about nuts and cream. But to me, THIS was the best out the pack.Thanks Northland!"
Leave a comment