Tangerine Dream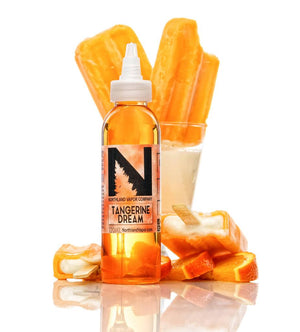 A multi-layered creamy, dreamy, orange popsicle complete with a cooling sensation.
Comes in 120ml and 30ml.  Available nic strengths are; 0mg, 1.5mg, 3mg, 6mg, 9mg, 12mg, 18mg, and 24mg. 
87vg, No artificial sweeteners and diketone free. 
People have said this about it:
"This is an excellent flavor and one to have on hand at all times. It's really smooth and has been the closest tasting to a dreamsickle I've found after numerous flavor testings. I highly recommend this flavor to anyone who is a fan of the original dreamsickle."
"Delicious and very smooth. No popping or crackling from this juice!"
"Good orange flavor, very mild"
"Sublime or should I say subl'orange? This is a great rendition of a tangerine (orange) creamesicle! Spot on!"
"Just like the dreamsicles I had growing up! Amazing!"
"Really cream heavy, with some orange thrown in. I love this stuff. "
"Tastes like an orange candy but not too sweet"
"Tastes like a Dreamsicle if Martha Stewart made them. Nice, fresh sharp orange overtone mellowed over with a layer of rich cream."
"Best orange creamsicle juice I've ever tried. Not too sharp, nice and sweet and creamy."
"Tastes exactly like the orange dream sickles we all grew up with. Nostalgia in every puff, and my favorite flavor for sure!"
"I was glad to see this in the flight boxes because I wasn't all excited about the release of a flavor like this. Citruses are all hit and miss with me, and even though it was supposed to be a cremier flavor, I just didn't want to commit to buying a single bottle. I'm glad I did pick it because it's so good. Takes a minute to really build up in the cotton, but once it's in there, it's delicious."
"This one is a blast of tangerine orange creamy goodnes."
"OMG this eliquid brought back memories of when I was growing up of getting the Orange pushpops from the ice cream man. It reminds me of the good times I had as a child of running out to the ice cream truck to get a pushpop and sitting outside and enjoying it. I will be ordering more soon."
"I taste tangerine on the inhale with a cooling creaminess on the exhale. This rivals blu razzz as my adv, it's that good."
"My new favourite from Northland. Great flavour. Fruity, bit of creamy, slight cooling. Really enjoying this juice!"
"Tastes exactly what I've been looking for in an orange creamsicle flavor and by the heavens northland came out with this flavor finally!!!! It tastes delicious and creamy and exactly like a fresh ice cold orange creamsicle."
"It's sweet and creamy reminds me of a orange push up pop. Great summer flavor. "
Leave a comment