White house administration does not endorse this current vaping ban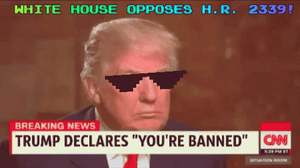 in a press release that just came out very late last night, the current administration stated quite flatly and in the very first line of the thing: "The Administration opposes H.R. 2339." Great start! 
The press release goes on to state: "this bill contains provisions that are unsupported by the available evidence regarding harm reduction and American tobacco use habits and another provision that raises constitutional concerns. " Which is obviously a strong condemnation of the bill in favor of the vape world. 
It also very presciently says: "The Administration cannot support H.R. 2339's counterproductive efforts to restrict access to products that may provide a less harmful alternative to millions of adults who smoke combustible cigarettes." Which is spot on and a refreshing take on the battle we've been fighting this whole time. 
While eLiquids and vape bans seem to be all the rage these days with miniature authoritarians wanting legislate and enforce what you do with your body, it appears this time the executive branch is at least on our side for the time being. This is also a relatively minor win considering we are coming up fast on that May PMTA deadline which will leave us all in the dust, as the FDA has yet to release any information about how it's going to either fast track those approvals or eliminate the requirement for the process entirely. 
What do you think about this press release? Will they get it through their heads that it's up to people of this country to decide what they can and will do with their bodies? Will those who oppose vaping ever wise up to the reality that vaping is a life saving harm reducing wonder technology? 
Leave a comment