Estonia is the latest country to take on a full vape ban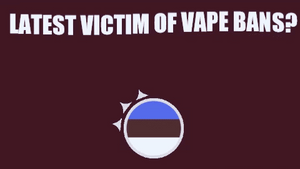 and the wording and nature of the ban is eerily similar to all the proposed bans we keep seeing pop up all over the place. The nature of the ban is over flavoring of eLiquids and of course as per usual the tobacco flavor is the only exception to the rule. 
Unambiguously named The Tobacco Act, basically bans all non-tobacco flavored eLiquids in Estonia including all domestic sales entirely.  From the bill itself: Prohibitions upon retail trade in tobacco products and products related to tobacco products, retail trade in tobacco products and products related to tobacco products is prohibited via domestic distance sale.

The bill continues with rather stringent requirements for the ingredients of electronic cigarettes, which is slightly confusing wording but basically just a translation omission which states; The nicotine-containing and nicotine-free liquid shall not contain flavorings, except for the taste and smell of tobacco.
Sounds familiar? Well that's no coincidence at all as the world decides how to tackle the vaping global phenomenon there seems to be only two stances.  Either you are very against this thing called vaping and buy into word for word the most insane prohibition of any new public health advancing technology, or you wait and take in the evidence provided by science.  
As countries divide up along these two lines we are bound to see more of what we already have in the past; hysteria on one side and solid research on the other.  The question is which side will win out, and we are obviously betting on the side of science and evidence based research.
What do you think about Estonia's vape ban?  Will we continue to see more and more of these types of bans world wide as the vape hysteria continues to snowball? 
2 Responses
Leave a comment